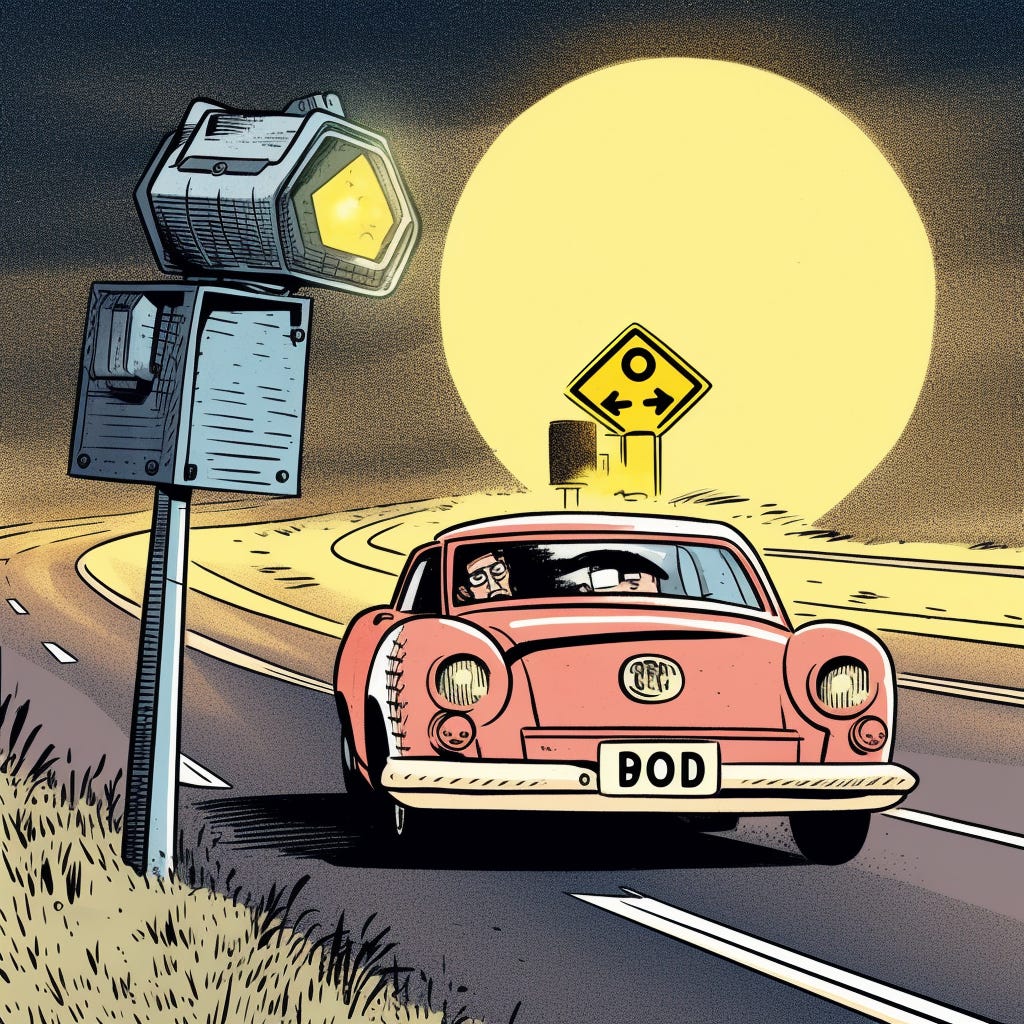 Unintended Use
Growing up I was taught that there were a couple things that were just common road courtesy. Saying thank you (or sorry) with a wave of the hand, and a few quick high beam flashes to warn oncoming traffic of a mobile speed camera. Recently, it seems that both have dropped out of common use. The hand waves may have fallen to the 'busy-ness' of our lives, but the latter – the friendly "there's a cop hiding in a bush up there" high beam flash was gently murdered.
I remember that for a period of few years there was an unprecedented number of friends that were suddenly now getting pulled over and ticketed for 'improper high beam use'. Now whether this was a localised initiative or a broader one, I'm not sure. But the net-effect was clear – the risk of warning people was no longer worth the feeling of camaraderie that once stood.
However, it's the knock-on effect that's most interesting here. I've found that I now drive my daily commute with Google Maps open – not because I don't know the way (I could do it with my eyes closed… well, actually maybe I couldn't…) – but because it's become the new way to engage in the ongoing effort to help other Australian motorists keep their licenses and cash. Live tracking of user-reported speed traps is not the problem a map was designed to solve – and yet it's the sole reason I open one everyday.
History is littered with similar stories of unexpected and unintended use. Kleenex tissues were originally designed as make-up removal towels, but then people started using them to blow their noses instead. Text messaging started as an emergency and outage communication tool – but demand meant it needed to pivot to handle consumer to consumer messages.
Even more recently, people using medications that were developed for the treatment of diabetes noticed that they were losing weight due to the drug's notable appetite suppression effect. This side-effect has led to a medication shortage as more and more people are now using the drugs to counter obesity instead.
The takeaway here is simple: No one cares about what you designed your solution for, they only care about solving their own needs as efficiently and effectively as possible.
Are you prepared to take advantage of unintended uses of your solutions?
And A Quick Observation: Unintentionally Worse